Leadership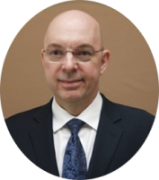 Security & Infrastructure Consultant, Founder & Principal of Comprosol, Co-Founder & CTO of Provisory Group, Entrepreneur
Larry H Buffington II – Principal, Technology and Security Consultant
Larry is an experienced IT professional with over 39 years delivering progressive security and technology solutions for multiple industries leveraging out-of-the box thinking, forward vision, attention to detail and a genuine passion for technology.
His introduction to technology was in 1980 as a CAD/CAM designer with Marion Power Shovel world's largest manufacture of earth moving equipment, creator of some of the largest earth moving equipment made and the Apollo mission, Saturn V and Space Shuttle crawlers used by NASA for launches to the moon. This technology initiation provided opportunity in mechanical engineering design, structural stress analysis and electrical design. Attention quickly went to the systems being used to support these functions and how to manage them.
Larry soon moved to Atlanta Georgia for better access to technology and technology-based companies where he started work with printed circuit board design for computerized testing equipment used in particle density, surface porosimetry and liquid chromatography testing. Support of these systems and the numerous computers used to design and support them enhanced his skill securing and protecting server-side information.
The next few years were at Medaphis, a US leader in billing and information systems for doctors and hospitals, and Printpack a world leader in flexible packaging specializing in the food, beverage, pharmaceutical and agricultural industries. This enhanced skills in systems and manufacturing integration, support, administration, security and compliance.
Once at DS Services (largest home and office delivery of bottled water and coffee in the US) Larry quickly advanced to Director, Technology Services taking responsibility for information security, all technology infrastructure (LAN/WAN, data center, servers, telecom, operations, end user support, software support and call centers), budgeting, auditing, compliance and disaster recovery. In this position Larry had a unique opportunity to be the vision leader, and to put "hands on", allowing constant progressive learning.
Having started in 1980 Larry had the opportunity to work with some of the first desktop personal computers made available to the general public and the start of the company-wide distribution of PC's, then the networking of those systems and centralized LAN servers and PC's using the first versions of Windows ever made available for general release.
In 1991 Larry founded Comprosol a private consulting business providing confidential services related to auditing, vulnerability scanning, system hardening, remediation, data center design, LAN/WAN design, procurement assistance, information security program development and security/technology/application training.
In 2020 Larry partnered with Derek Brookmire to form Provisory Group which addresses the needs of businesses to control budgets, especially as it relates to technology, to regain financial stability and develop their "New Norm" for todays world.